Your real wood alternative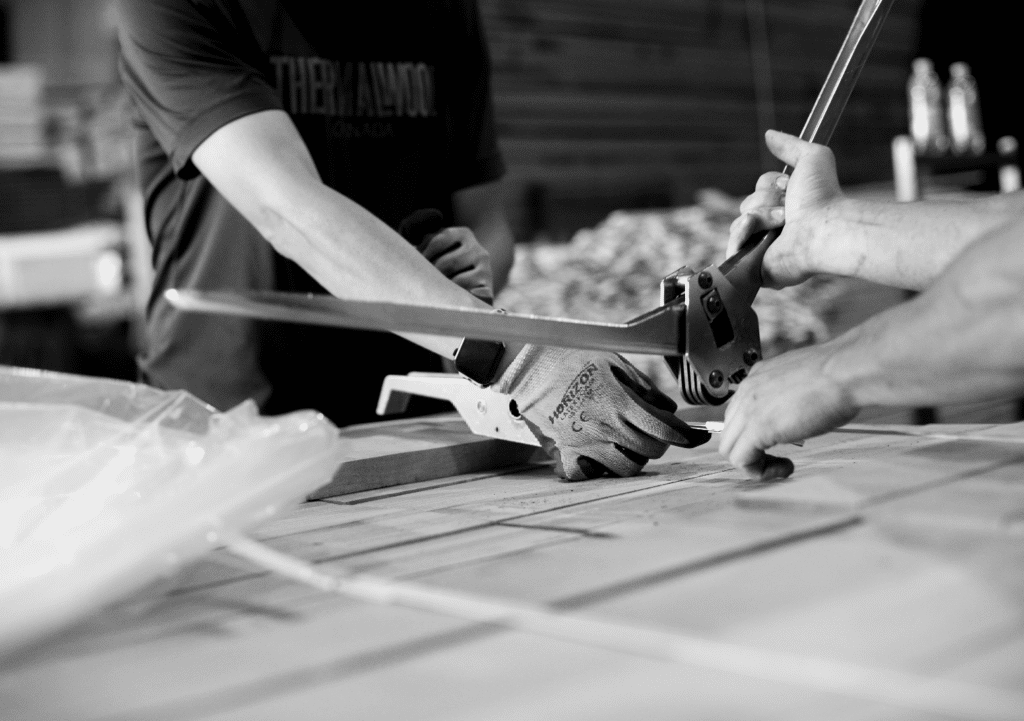 a wood that's built to last
At ThermalWood Canada, we're so much more than just a wood manufacturer. Through a process of heat and steam, with temperatures between 200 and 250°C, we change the chemical properties of the wood, giving it a whole new life. We pride ourselves on not using any chemicals during this process. It's environmentally friendly, and it allows us to use domestic woods right here in New Brunswick to create an exotic, dark brown look. Besides its aesthetic charm, modifying timber also creates a stable, mold, and insect resistant product.
ecological footprint
Our wood is Canadian wood. We process it here in Canada, at our plant in Bathurst, New Brunswick, and ship it to wherever you need.
---
high-quality product
Being a member of the International ThermoWood Association ensures that our products are always up to industry standards. That means great quality, every time.
---
personal touch
With 100 % customizable options, we're dedicated to partnering with you to bring your project to life while exceeding your expectations.
discover our obsidian collection
Discover Obsidian Ebony, our eco-friendly solution to the music industry's need for an ebony alternative. From replicas of premium woods to unique creations like peacock and sunset, explore to the sustainable innovation of the Obsidian Collection.
OUR PRODUCTS
01
DECKING
Our decking is sawn, dried, and thermally modified right here in North America. It is chemical-free, decay resistant, and has a 25-year warranty against rot. Our wood offers superior structural stability in high humidity and improved resistance to rot. With a UV treatment, the wood will retain its colour and untreated, the wood will gracefully weather to a nice gray patina.
02
Siding
Our thermally modified hardwood siding can use the same technology as our Snap-To-It decking. Machined grooves on the backside of the siding allow these boards to be fastened to the wall using our GRAD clips. Simply screw the clip onto your strapping and snap the siding in place. Save up to 30% on your installation time! If that does not work for you, we have other fastening options. Siding comes with a 60-year warranty against rot, In addition you still get that superior structural stability in high humidity and an increase in insulation properties.
03
weatherwood
If you're looking for an 80 year old barn wood look in a dark rich brown or grey color, ThermalWood Canada has developed a new product with larch using a combination of their heat treatment technology and a proprietary aging process that gives the wood a distressed appeal. Our premium Weatherwood can be used to manufacture whatever your heart desires.
04
music components
What many people don't know is that the music industry is one of our largest clients. We supply blanks for all components of guitars, as well drums components and wooden flutes. We've created an innovative new product for the string instrument industry called Obsidian. With ebony on the endangered species list, we thought the time was right to create a real wood alternative using roasted maple and a few other things.
05
hobby corner
Come check out our hobby corner filled with fun customized accessories. We have chess boards, charcuterie boards, benches, and even essentials for your dog. Come visit the hobby corner and see what we have to offer. And don't forget that we're 100% customizable, so if you don't see something of interest, let us know and we'll make it work.
catch up on the latest
We want you to follow us on this journey. New Brunswick is filled with untapped talent that the rest of the world doesn't know about. The Northern Heat Report was created as a means of networking, creating long lasting connections, and letting the world know just what we have to offer.
take a virtual tour
discover our
facility
Being a global supplier can make it difficult for everyone to see the facility.
That's why we created the virtual tour filled with drone shot images and
educational information. This way, no matter how far you are, you can feel
like you're right inside the plant.